Update 3.0
Sat Feb 06, 2016 10:33 pm by Chaos
Updates:
Welcome to Nuclear Wolves! Even if you are just visiting, I hope you'll enjoy yourself while browsing our website. Because no one has posted on the forums for a long time, I'm going to delete the roleplay threads which have become inactive some time soon. I understand if others are busy due to other things, but please remember to give a warning if you think you will become inactive.
Member Of The Month:
Undecided
Season:
Spring
Staff:
~Admins~
Chaos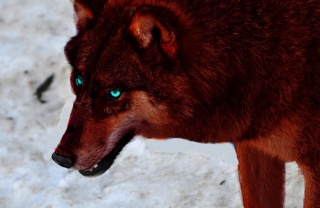 To be decided. Max of three.
~Mods~
To be decided. Max of two.
~Website Designer~
To be decided. Max of one; they are given the same rights as Admins, but are expected to focus on photo manipulation without copyright issues. Anyone may request to be the Web Designer, but they need to show some proof of their skill. A week trial is given to all requesting members.
Comments: 0

Name: Chaos

Gender: She-Wolf

Personality: Chaos seeks the company of others; she doesn't care how they treat her as long as they are not trying to kill her. When the nuclear wars began, most of her pack was killed by a massive explosion and she hasn't seen them for two months now, but she misses them even though they discriminated against her. She was named Chaos because her dark, blood red fur was considered a bad omen, and she was treated as an outside in her pack until their fateful end. She knows that something has changed her somehow and has noticed that recently, many of the animals in the forest have also changed, but tries to ignore it. She wants to have be with others of her kind, even if they shun her.

Description: Chaos is a large she-wolf, a two-year old with icy blue eyes and dark blood red fur. Her head is a bit darker than the rest of her and she tends to stand out unless she's in a brown background. She's very good at hunting during the night, but is at her worst during winter. She has a slim build despite her size and is really fast, but isn't the strongest wolf you'll ever meet.

Power: She is able to heal wounds at a quickened pace.

Limitation/Consequence: While healing, she cannot think clearly and becomes tired. The world spins around her as she tries to understand why it is happening, and if the injury is very serious she may faint. She cannot control this power right now. She is only able to heal herself.

Join Keys: Checked and approved by Chaos.
OML, I'm sorry, Chaos! Now I realize why you were asking me! If you want me to change Feather's power, I can.
No, wolves can have similar powers just as long as their not the same so you're good. Chaos can only heal herself, and your character can only heal others; this makes their powers different, so it's fine by me

And then we can collaborate and become the Healing Squad! >.<
We can do a mini plot for Feather and Chaos; what do you think?
Maybe! Like, they meet each other in the forest or something? Also, is the time here liquid, semi-liquid, or solid?
Liquid for now, but it may become solid if that doesn't work out
Good to know. So yeah! Do you want to wait until Chaos Beginning reaches a smoother point, or...?
Now is good. Do you want to start or should I? (We just won't mention any of the events on going in Chaos Beginning for now, and pretend it's the first time their meeting.)
Awesome! You can make it!


Similar topics
---
Permissions in this forum:
You
cannot
reply to topics in this forum