Update 3.0
Sat Feb 06, 2016 10:33 pm by Chaos
Updates:
Welcome to Nuclear Wolves! Even if you are just visiting, I hope you'll enjoy yourself while browsing our website. Because no one has posted on the forums for a long time, I'm going to delete the roleplay threads which have become inactive some time soon. I understand if others are busy due to other things, but please remember to give a warning if you think you will become inactive.
Member Of The Month:
Undecided
Season:
Spring
Staff:
~Admins~
Chaos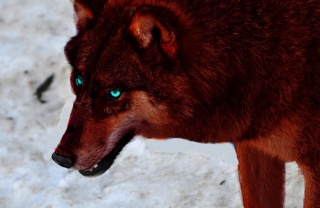 To be decided. Max of three.
~Mods~
To be decided. Max of two.
~Website Designer~
To be decided. Max of one; they are given the same rights as Admins, but are expected to focus on photo manipulation without copyright issues. Anyone may request to be the Web Designer, but they need to show some proof of their skill. A week trial is given to all requesting members.
Comments: 0

Name: Feather

Gender: Female

Personality: Feather is a she-wolf with a sunny disposition. She's always willing to help a wolf in need, even if said wolf has wronged her in the past.  She is very forgiving, but that means wolves will take advantage of her kindness.  On the inside, Feather is stubborn, enjoys very much for things to go her way, and gets extremely heated when her friends are threatened.

Description: Feather is an arctic wolf. She is a young adult, stands at about mid-thigh height on a fully grown man. Feather is white except for her back. A patch at the base of her neck is black, surrounding that, dark gray, surrounding that, paler gray, so on, so on, until the gray is so pale it blends in with her full body.

Power: Feather has the power to heal wounds.

Limitation/Consequence: This power is exceedingly draining. She can do it to multiple wolves, but it requires extreme concentration, and she will pass out if doing anything too serious

Join keys: Checked and approved by Chaos.
Thank you for joining the website! Your join keys have been checked and approved, so you may role play right away, but I have one question about your power; would you be able to heal yourself?
Admin/Lone Wolf




Posts

: 35


Join date

: 2015-12-06



Um... no, I don't think so. It requires immense concentration, and if she's in pain, she wouldn't be able to.
Power Approved


Admin/Lone Wolf




Posts

: 35


Join date

: 2015-12-06




---
Permissions in this forum:
You
cannot
reply to topics in this forum