Update 3.0
Sat Feb 06, 2016 10:33 pm by Chaos
Updates:
Welcome to Nuclear Wolves! Even if you are just visiting, I hope you'll enjoy yourself while browsing our website. Because no one has posted on the forums for a long time, I'm going to delete the roleplay threads which have become inactive some time soon. I understand if others are busy due to other things, but please remember to give a warning if you think you will become inactive.
Member Of The Month:
Undecided
Season:
Spring
Staff:
~Admins~
Chaos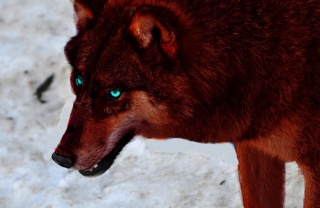 To be decided. Max of three.
~Mods~
To be decided. Max of two.
~Website Designer~
To be decided. Max of one; they are given the same rights as Admins, but are expected to focus on photo manipulation without copyright issues. Anyone may request to be the Web Designer, but they need to show some proof of their skill. A week trial is given to all requesting members.
Comments: 0

The moon rose high above the white glade, dancing silver light on a black background. Despite the snow, Chaos felt she could detect a faint floral scent and allowed the aroma to soothe her as a light, cold breeze blew over her fur. The area had a few trees here and there, but there weren't enough to consider it a forest; perhaps a small grove. She had come here often since the war had destroyed her pack and her homeland, devoid of any company but that of the other creatures in the wilderness. When she had glimpsed other wolves, they had been unwelcoming to her presence and she had been banished to the unfamiliar place.

She had nightmares often, which was why she found that recently, she could not seem to sleep. A sad smile lit her face; it wasn't like the life she had led so far could be considered 'peaceful' anyway. Did anyone know her pain? She hoped not; it was horrible to feel alone and unwanted. She would do anything if she thought it would bring her a place of belonging, a glimmer of hope in her endless solitude. At the same time, she liked being alive; she was, and for now, that was all she wanted. She existed, and she had an impact on the world because of that, no matter how small it was. Joy would be her solace.
Feather peered out from behind her tree, watching the red wolf bathe in the moonlight. She smelled flowers on the breeze.

Feather studied the blood-colored wolf. She recalled her mother once telling her that blood-red fur was a bad omen, but this wolf had a sad aura around her, as if she had been judged her whole life because of this omen. Shaking out her white pelt, Feather bounded through the snow, spraying up powder as she skidded to a halt in front of the red wolf.

"Hi," she said breathlessly. "I'm Feather."
Lone Wolf/Rogue




Posts

: 20


Join date

: 2015-12-10



She jumped a little as a voice broke the silence, then looked at the source. A she-wolf with beautiful white fur stood before her. "Hi. My name is Chaos." She said, wondering if this wolf had nightmares of a distant past as she did, or just loved the moonlight. It was a wonderful night; the sky was clear, and the stars blazed as a million tiny specks and seemed brighter tonight somehow.

"I'm surprised to find someone else here, since the flowers are gone. Not many visit that I know of, but of course, I am new to this land so maybe I am wrong." She felt a little self-conscious, but was happy someone had approached her. She hadn't had friendly company for as long as she could remember, but this she-wolf didn't seem aggressive. Maybe they could be friends? A sliver of hope slipped into her, but she reminded herself not to be too eager. She didn't know for sure yet.
Feather detected eagerness, yet wariness in the red wolf's voice. She replied, "I've actually never been here before. I- I followed the moonlight." Feather twitched her tail, then added, "I- I'm sort of scared of the dark." She berated herself. Stupid she-wolf. Confessing to a stranger. But somehow, she knew this she-wolf, omen or not, wouldn't harm her.

"So, what's your power?" Feather asked, eager to change the subject. Hurriedly, she added, "I mean, if you got one from the nukes. I can heal other wolves. But not myself."
Lone Wolf/Rogue




Posts

: 20


Join date

: 2015-12-10



"That's not a bad thing; darkness is something all should fear. Especially when it comes to personal matters. I'm afraid of a different kind of darkness..." She had always known that the heart was a reflective, fragile thing. Some never admitted it, but she did. There was no avoiding reality, no matter how strong the desire to do so.

"My power? I don't really know... I think I can heal myself, but I've never tried to heal anyone else; and I don't know how to control it. If I get injured, it just sort of happens. Though, the longer it takes me to heal, the sicker I tend to feel. Why did the humans do such a foolish thing?" Of course she had heard rumors, but there was no way of knowing the truth.

---
Permissions in this forum:
You
cannot
reply to topics in this forum